More info.
Make 4 interest-free payments of $112.00 fortnightly and receive your order now.
Available to Order
If this product is "Available to Order" it will be ordered from our European supplier. Please allow 4 - 6 weeks for delivery.
---
Lymed Sense™ Adjustable Body Pressure Garment
Neurological pressure garments
Lymed Sense™ garments are used in occupational and neurological physiotherapy of clients with e.g. cerebral palsy (CP), autism, hypotonia, Erb's or serratus anterior palsy or other neurological conditions. The garments are applied for posture control and tone management, improving the functional skills and body awareness. Lymed Sense garments are also used to treat different types of pain (e.g. CRPS).
Lymed Sense garments can be fully customized to meet the goals of client's treatment and to support client's everyday activities. Zippers, velcros, straps and splint or neoprene pockets are examples of additions which can be used to add comfort and functionality of the product.
To ensure product's safety, Lymed suggests critical approach towards suitability of standard-sized products in client's treatment. According to literature, optimal benefits from pressure treatment cannot be achieved if the garment is too loose. On the other hand, too tight or an ill-fitting product may cause a negative effect. Lymed recommends that garments should be custom-made to sustain optimal pressure without causing tissue damage. The fit of the product should be monitored regularly.
Product information
Adjustable body can be used in occupational and neurological physiotherapy. Different parts of the body can be activated by adjusting the Velcro straps. Adjustable push-buttons at the crotch. Medium material at the midsection and axilla for added comfort.
Material:

Strong and medium

Stock color:

Beige

Colors by request:

Black, white, grey, blue, red, green

Fastening:

Velcro at the back, push-buttons at the crotch

Pressure level:

Adjustable

Details:

Neckline and leg opening ELA 3

Edge of sleeve ELA 2
(LOYSTSE4)
Lymed Oy Adjustable Body Pressure Garment Sizing Chart
The figures below show you where to take the measurements B30, B11, B17, B2, B9 and B12.
Size
Short sleeves
Measurements (cm)

B30

B11

B17

B2

B9

B12

1

STSE401

80 - 86

24

30

43

40

42

2

STSE402

84 - 90

25

31

47

43

45

3

STSE403

88 - 96

26

33

51

46

48

4

STSE404

94 - 102

27

35

55

49

52

5

STSE405

100 - 108

28.5

37

59

52

56

6

STSE406

107 - 115

30

39

63

55

60

7

STSE407

114 - 122

31.5

41

67

58

64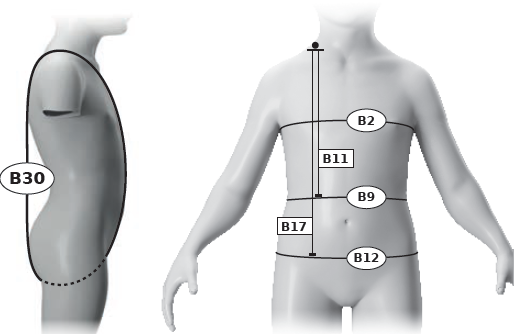 | | |
| --- | --- |
| SKU | LOYSTSE4 |
| Brand | Lymed Oy |
Calculate Shipping
---
Standard (AusPost)
- $14.50
Standard Freight via Australia Post
---
Others also bought
---
More from this category