The APIS Footwear Company believes there is a shoe for everyone. For over 27 years, APIS have been devoted to meeting patients' needs and finding the solutions for various foot conditions. They offer added depth, double depth and supra depth footwear with sizes run from 5 to 20 and widths from Medium, Wide and Extra-Wide.
A favourite for those who wear hard-to-find sizes, each style is offered in a multitude of sizes and widths. APIS strives to produce variety in style while maintaining it's therapeutic functions. APIS Footwear carries shoes for every age and gender.
The APIS Mt Emey and Answer2 Footwear adult catalogue is available here.
Mt Emey
The Mt Emey Children's Orthopaedic shoe line feature multiple widths and the sizes extend up to adult's size runs. These shoes are made of top quality materials and fine EVA soling materials for durability. Elongated counter support provided stability. All shoes are designed with wider opening and extra toe room to accommodate UCBLs, AFOs and braces.
Thanks to the wide range of sizes and styles we carry, you can find a Mt. Emey shoe to fit any foot and any taste for practically any man or woman and orthopedic shoes for kids. Although these shoes provide all the varied benefits of orthopedic footwear, they don't sacrifice looks for comfort and pain relief. These shoes are as easy on the eyes as they are on the feet.
The APIS Mt Emey Children's Footwear catalogue is available here and the Children's Over-AFO range is here.
Answer2
Answer2 orthopaedic shoes are designed to accommodate footwear needs for AFO & KAFO fittings while providing top quality finish and craftsmanship that ensures durability and comfort. With multiple widths, added depth, and removable insoles to accommodate custom orthotics Answer2 orthopaedic shoes are designed to solve all the fitting challenges and restore comfort to the sensitive feet of infants, children, and adults with small or petite feet.
The Answer2 footwear and Answer2 Over-AFO range is included in the APIS catalogue above.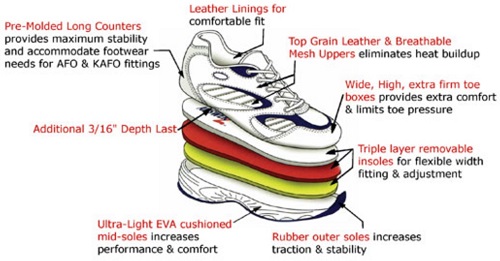 The APIS, Answer2 and Mt Emey footwear size guide is available here.
Selected models from the APIS Answer2 and Mt Emey catalogue are listed on our website. If you would like to purchase models that are not listed on our website please eMail us at thrive@wellandable.com.au. We will work with you to arrange your purchase.
The Well & Able Team are proud to be prescribers and distributors of APIS Answer2 and Mt Emey footwear in Australia
---