Aurelka® is an award-winning Polish manufacturer of orthopaedic footwear for people of all ages.
The Aurelka El-But® range of footwear provides support for feet of all types and sizes. Treating children's health as a priority, Aurelka developed the professional Aurelka ORTO® range, which is specialist medical grade footwear that cater to individual needs and complex conditions. These also support the rehabilitation of foot deformities.
The Aurelka ORTO® range also includes orthopedic insoles, as well bespoke Ankle-Foot-Orthoses (AFO's), made from leather, with the innovative BOA® fastening system.
The Well & Able Team are proud to be prescribers and distributors of Aurelka footwear in Australia and New Zealand.
Aurelka shoes can be modified to cater for several different foot conditions. Please contact us at [email protected] and we will work with you to clarify your needs and then provide you with a quote for a shoe that will help. Forms to aid therapists with recording and submitting measurements are available on our forms page.
See the AurelkaORTO Catalogue for a list of their footwear and this catalogue for the modifications that can be made to the AurelkaORTO footwear.
Overview of Aurelka Quality Shoes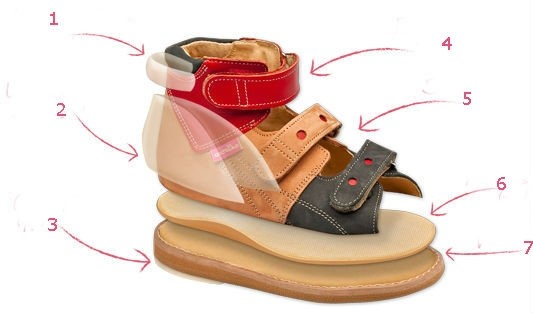 | | | | |
| --- | --- | --- | --- |
| 1 | Softening cushions | 4 | Regulating buckle |
| 2 | Rigid back | 5 | Genuine leather |
| 3 | Thomas heel (optional) | 6 | Orthopedic supports (optional) |
| | | 7 | Vibram outsole |
| | | |
| --- | --- | --- |
| All AUrelka shoes are made of natural leather and therefore they are more soft, flexible and the leather fits to the foot shape. Leather is a natural environment for the feet. | Waterproofness due to the TE-POR membrane (available in selected styles or could be added upon request). | The heel counter is rigid (available at various levels up and above the Achilles tendon) allows free rolling of the foot while maintaining lateral stability. |
| There are no seams inside the shoes, which gives a better comfort feeling. | The shoes are ultra-light because of the materials used. | The appropriate width gives freedom and enables growth of the little foot. |
| The soles produced by the renowned Vibram® company guarantee elasticity and assist the training of the poorly developed longitudinal arch of the foot in children. | Due to the special construction it is easy to put the shoes on. There are many different types of closures available: including velcro, lace or BOA. | It is a natural, breathing environment for Your child's feet. |
| Flexibility – the shoes bend correctly in a zone that corresponds with the line of the metatarsophalangeal joints. | Stable behaviour | Our footwear is certified by the Central Laboratory of Footwear Industry in Cracow and belongs to the group of shoes that have been awarded the "Healthy Foot" Mark. |
| Aurelka shoes are recommended by Polish and foreign orthopaedists. | | |
---