Schein's beginning dates back to 1879, when Heinrich Schein Sr. produced orthopedic treatments alongside his profession as a shoemaker. Today, Schein is among the leading suppliers of orthopedic technology and footwear. Schein has a large selection of materials and custom foot orthotic components, as well as an orthopedic shoe line.
Here are at Well & Able we are proud to offer you a wide range of orthopaedic footwear from the famous collection ' My Generation by Schein' including orthotic shoes, support shoes ,reverse last ( anti-varus) shoes and orthotic devices .
Browse the catalogues from Schein:'My Generation.
The Schein footwear size guide is available here.
Currently Schein footwear and orthotic devices are available on request only and must be prescribed by specialist. We will work with you and your specialist to determine the correct footwear choice for your requirements. Forms to aid therapists with recording and submitting measurements are available on our forms page. To order Schein shoes from Well and Able please contact us at [email protected]. We will work with you to determine the correct shoes for your requirements.
Orthotic Shoes
Many people find wearing a leg orthosis too restricting for their freedom of movement. To combat this, our orthotic shoes are designed to ensure an optimum fit for the foot, orthosis and therapeutic shoe. The sturdy heel cap combined with the flexible raised collar guarantees a good hold and a secure stance.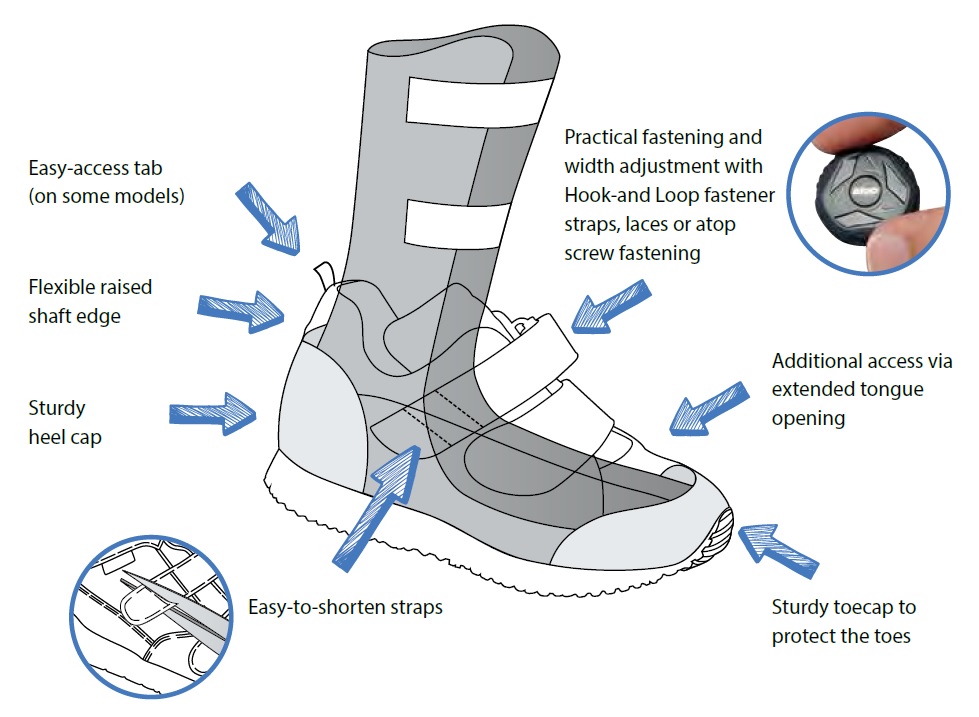 However, an ideal fit is not the only thing that matters for our shoes. For ease of everyday use, it is also vitally important that our orthotic shoes are easy to put on and take off. Therefore many of our models feature a slip-in loop which makes it easier to do just that. But that is not all:
The special "Derby" construction allows the whole shoe to be opened up very wide.
However, when designing our orthotic shoes, we do not confine ourselves to addressing the medical issues: fashion considerations also play an important role.
That is why our therapeutic shoes strongly resembles normal shoes in design. To ensure this, we keep track of the latest fashions, popular cuts and colours and integrate these into our therapeutic shoes to help people feel good in them.
If further adjustments are needed for orthotic purposes, our orthopaedic shoe technicians can make these on an individual basis. Specific orthopaedic adaptations and fittings can be added to all our orthotic shoes, ensuring that every foot receives optimum care.
Support Shoes
Our support shoes are suitable for a wide range of uses. They can relieve the strain on the foot and ankle joints as well as provide them with support and guidance.
They are proven for the following indications:
Support for painful foot joints in cases of rheumatoid arthritis or arthritis for any other cause
Support for joints with weak ligaments after injuries to ankle joint ligaments or in cases of congenital fibular aplasia
Guidance for joints which are neurologically impaired due to cerebral palsy, spina bifida or poliomyelitis
Support for slight to moderate foot deformities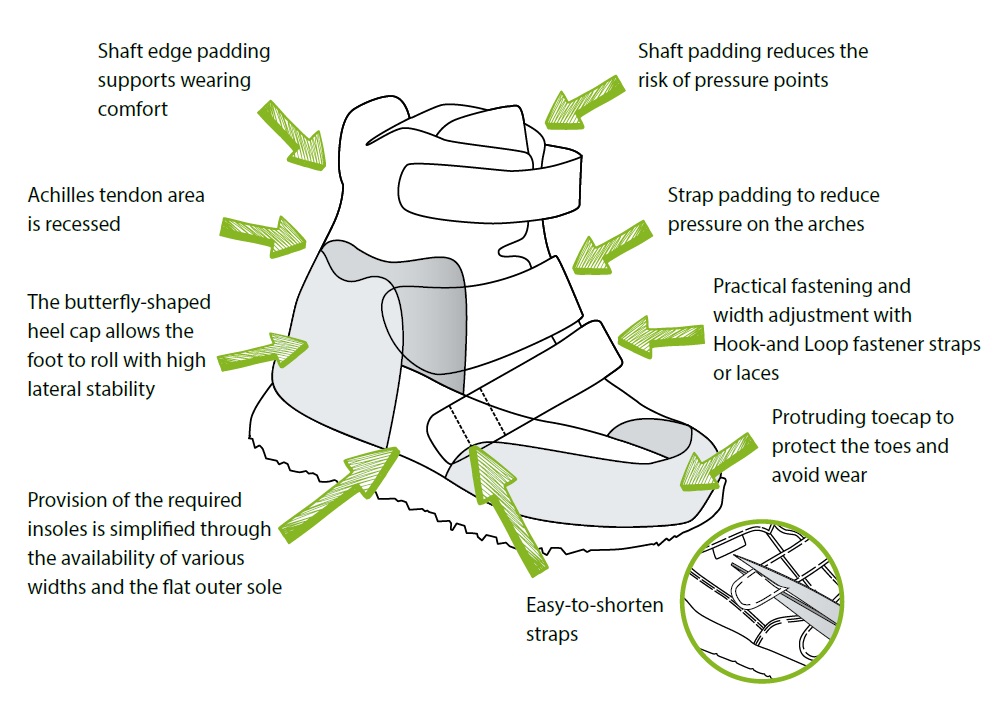 ---